Son of the Goddess is the Fifteenth novel in the Campione series.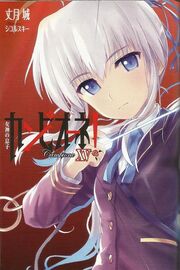 Still trapped in the past, Godou, Ena, and Erica, must team up with Doni and Aisha to face the Earth Mother Goddess Artio, and possibly finally discover the identity of the King of the End.
Chapter 1 - Devil Kings in Ancient Gaul
Chapter 2 - Journey to Colonial Agrippina
Chapter 3 - Goddess from the Land of Gaul
Chapter 4 - War God Artos and the Divine Sword of Salvation
Chapter 5 - Across a Thousand Years
Chapter 6 - Queen of Chaos
Chapter 7 - Impossible Battle
Epilogue
Afterword
Characters
Edit
Ad blocker interference detected!
Wikia is a free-to-use site that makes money from advertising. We have a modified experience for viewers using ad blockers

Wikia is not accessible if you've made further modifications. Remove the custom ad blocker rule(s) and the page will load as expected.